Locked On Game Camera Security Box Model 13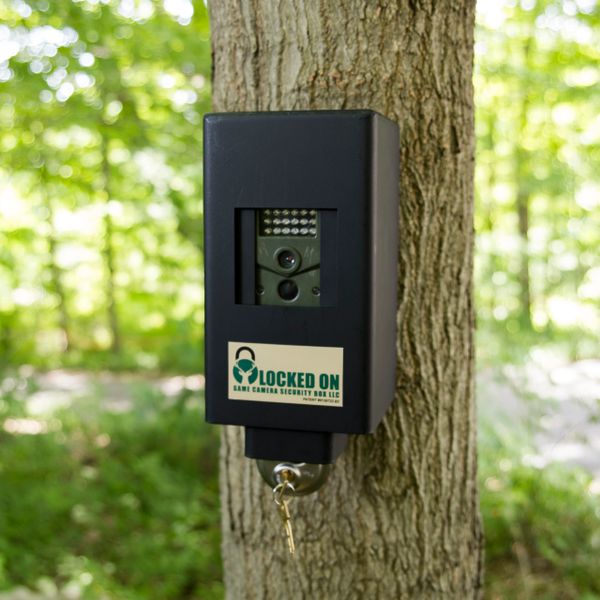 Locked On Game Camera Security Box Model 13
Locked On Game Camera Security Box Model 13 was invented to make it harder for the camera thieves to steal your game trail camera off the tree. The box is made of 3/16 inch steel and has a radius that contours the tree which protects the 5 lag bolts that hold the box to the tree. Model 13 also has 5 steel tubes on the back of the box that rotate to add extra protection to the 5 lag bolts. The disc lock is protected by a 3/16 inch steel shroud and has no access for easy cutting. The goal is to keep your Game trail camera from getting stolen.
                                           SECURITY BOX CAMERA OPENINGS FOR MODEL 13
Box size: 11 3/4 inches high x 6 inches wide x 6 inches deep (outside dimensions)
                 8 inches high x 5 inches wide x 3 3/4 inches deep (inside useable dimensions)
                Box weight: 20.5 pounds 
Camera box opening measures approximately: 3 3/16 inches high x 3 7/16 inches wide
Plate 1: Horizontal opening : 3 5/16 inches wide x 2 1/4 inches high
Plate 2: Vertical opening: 2 3/16 inches wide x 3 3/16 inches high 
                                TOOLS NEEDED (not supplied)
                  -cordless impact driver
                  -one 5/16 nut driver
                  - game trail camera with an SD card
                                                        CONTENTS OF MODEL 13  (GAME TRAIL CAMERA IS NOT INCLUDED)
                           (1) front section black powdered coated steel box 
                           (1) back section black powder coated steel box
                           (5) lag bolts 5/16 head
                           (2) thumbscrews 
                            (2) washers 
                           (1) disc lock  with 2 keys
                           (1) vertical opening reducer plate
                           (1) horizontal opening reducer plate
                           (1) silver stainless steel adjustable depth plate 
                           (1) black plastic filler pad (to help  keep the camera in place)
                                                               SAFETY PRECAUTIONS FOR MODEL 13
                              LOCKED ON GAME CAMERA SECURITY BOX is heavy, use caution when lifting.
                    Use caution when sliding the two steel pieces open and closed.  It is easy to pinch your fingers.
                                        Use caution when fingers are near the spinners, they are very sharp.